Photograph Collection, Department of History of Art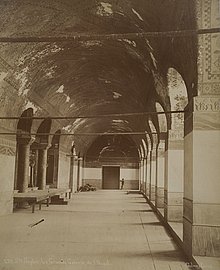 Link to the Website of the Photograph Collection
---
Being housed at the Department of History of Art at the University of Vienna, one of the oldest such departments worldwide, DiFaB has acess to a rich reserve of historical photographic prints, large-format slides and glass negatives in the Photographs Collection of the Department. The majority of the images, which span a period from the 1880s to the 1960s, were taken before the First World War and therefore provide valuable evidence of the condition of the monuments before the ravages of the many wars of the 20th century. DiFaB has digitised up to now approximately 5600 images covering South-East and Eastern Europe, Asia Minor and North Africa.
The digitised images can be found in the database UNIDAM.
A large number of unpublished photographs from the collections of Josef Strzygowski and Otto Demus are thus being made widely accessible to researchers for the first time.
| | | |
| --- | --- | --- |
| | | (Kopie 1) |
DiFaB
Department of History of Art
University of Vienna
Universitätscampus Hof 9
Spitalgasse 2
1090 Vienna
T: +43-1-4277-414 43
E-Mail